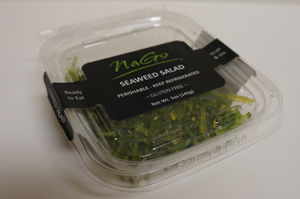 Seaweed Salad is a popular side dish found at most sushi restaurants. Crunchy and bouncy in texture, this seaweed salad is refreshing, healthy, and seasoned with our own sesame based sauce.
Net Wt. 5 oz Shelf Life: 14 Days Refrigerated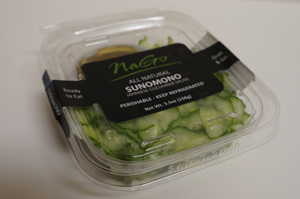 SONOMONO (CUCUMBER SALAD)
These thinly sliced marinated cucumbers make a refreshing salad, or a nice appetizer for any meal. Crunchy, sour, and slightly sweet, with a hint of bonito.
Net Wt. 5.5 oz Shelf Life: 10 Days Refrigerated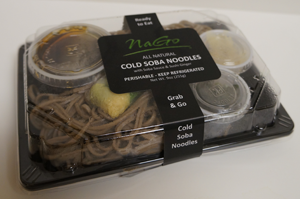 COLD SOBA NOODLES

Soba noodles is a very popular and light meal to enjoy at any time of day. Our kit includes a soy based sauce, a sprinkle of nori (seaweed), and a side of wasabi, ginger, and scallions. Healthy & delicious.

Net Wt. 9 oz Shelf Life: 8 Days Refrigerated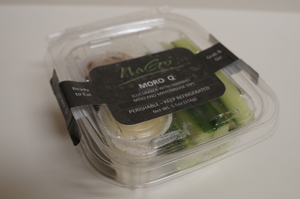 MORO Q

Similar to America's celery and peanut butter snack, Moro Q offers a delicious and fun snack to enjoy any time of day. Fresh cucumber sticks are spread with an extremely flavorful miso paste (still in bean form) and a dab of mayonnaise to create an unforgettable experience in your mouth.

Net Wt. 5.5 oz Shelf Life: 10 Days Refrigerated
This natural sushi ginger contains no artificial dyes, sweeteners, or preservatives and comes in its purest natural form. Great for salads, sushi, sandwiches, or as a garnish on any meal. Healthy and delicious!

Net Wt. 8.5 oz Shelf Life: 6 Months Refrigerated

Now you can enjoy miso soup at home or at work! This kit includes the recipe and all the necessary ingredients to create the flavor you enjoy at your favorite Japanese restaurant. Just add your own tofu, scallions, or whatever you like! It takes only 5 minutes and can make 18 servings.

Net Wt. 13 oz Shelf Life: 1 Year Refrigerated